Hobsonville & Whenuapai Mortgage Broker For New Builds
I was based in central Henderson since 2008 but now I have set up in new offices at Hobsonville making me known as the Hobsonville and Whenuapai mortgage broker for new builds.
So I have been involved in the financial services industry since 1997 providing a range of advice on insurance, investments and of course mortgages and finance. The company name is North West Mortgages Limited and we now trade under the brand name of The Mortgage Supply Company which has become renown in Auckland with David (who specialises in investment property loans) being named the New Zealand mortgage broker of the year in 2017.
Today if you are looking for a mortgage broker in the Hobsonville area then my name pops up and more recently with the building activity in Whenuapai I am becoming known as the go to Whenuapai mortgage broker as well.
Why We Chose To Move To Hobsonville
Things in West Auckland have been changing over recent years with the huge developments at Westgate changing the focal point from Henderson to Westgate.
For the past few years I had been looking at Westgate with the view to relocate our offices there and giving us access to the West Auckland and new developing areas around the North West.
One of the issues that I saw with Westgate was the area designated to professional offices has still not started, and it did not appear that there would be any suitable office space for quite some time.
When we started seriously looking for office space the new Hobsonville area seemed to tick all the boxes;
Suitable sized office space
Great parking available
Good signage
Easy access to the motorways – in all directions
Hobsonville has the advantage of easy access to the motorways and roads in all directions. This is an advantage to those people who want to visit our offices, and to ourselves when we travel to you at your home or place of work.
Plus of course the area is a growing area with plenty of new houses being built.
A Massive New Build Area
With our new offices located in Hobsonville we are right in the heart of New Zealand's biggest residential development areas of Hobsonville Point, Whenuapai, Westgate, Riverhead and the Kumeu / Huapai areas. These areas all have huge growth and as mortgage brokers with experience in providing finance for the new building sector is a real advantage we have.
We have seen a greater focus on new builds and have even set up this website dedicated to new build finance.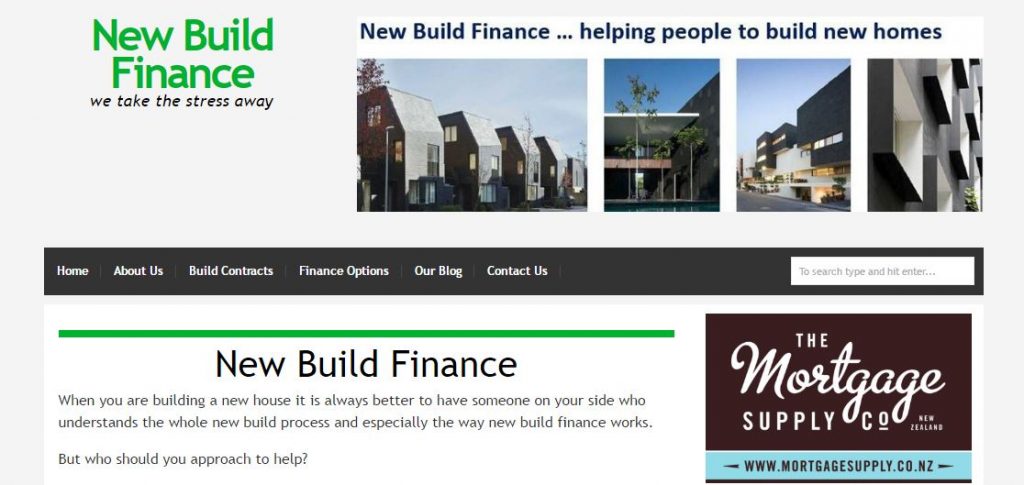 Yes, we take the stress away for those people building a new home or investment property.
Experience Counts For Mortgage Brokers For North Shore & West Auckland
With the changes within the banks and the booming property market we have seen the number of mortgage brokers for North Shore and West Auckland increase, but unfortunately many of these new brokers do not yet have the experience that is necessary.
This is one industry where experience done count.
Too often people leave the banking industry and think that because they have worked for a bank for a number of years they can set up and be successful as a mortgage broker. Of course there will be some that can and do make a success in this industry, but there are others that find it very difficult.
As a mortgage broker you need to be able to think outside of the box. Everyone has a different situation and therefore requires a slightly different solution and for this reason the standard bank options are not always right. We have choices and the option to select the right bank and product for a situation and while this is often a little more complex, it does mean we can provide a better result.
Making Contact Is Easy
I am the principal mortgage broker at The Mortgage Supply Company in Hobsonville.
The physical address is: Level 1, 124 Hobsonville Road, Hobsonville
The main office phone number is: 09 4162073 or 0800 100939
The small team consists of: Stuart Wills (mortgage broker), Clive Brumby (mortgage broker) and Erica Wills (office / admin) but we have the support of the whole team from The Mortgage Supply Company too.
I am your Hobsonville & Whenuapai mortgage broker