Helping Kevin Purchase A New Home
Last night I had the pleasure in providing Kevin with a loan approval so he could confirm the purchase of a new home.
It was a pleasure because Kevin was so grateful.
Dealing With Banks Can Be Frustrating
Like so many people, Kevin approached his bank of 25+ years but got extremely frustrated.
In Kevin's own words;
For some reason, this time around ANZ have put me through the wringer and its taken them nearly 3 weeks and talking with 3 different "Managers" for them to up their anti and confirm an offer that will help me achieve my goal.Their continuity and consistency of service / supply has been poor. Frankly, ANZ have mucked me around this time. I've been an extremely loyal NBNZ / ANZ personal customer for 25+ years and a business customer for the last 5, with impeccable credentials of never missing a payment, defaulted, paid every Credit Card (Visa) in full, on time etc, etc …. and yet in the last year or two, when I've requested something like this pre-approval, they seem to take forever and at the end of the process I feel "bullied" by them. Bottom line … its time to change … which is why I emailed you.
Kevin emailed me on Sunday evening and we first spoke on Monday.
I provided our online application to Kevin and he completed this on Tuesday and was in a bit of a panic as he only had until Friday (today) to go unconditional on the new home that he had found. Of course along with the application itself we had to get some supporting information from Kevin (proof of income, bank statements, property information etc) we were able to assess the overall deal, establish what might be a problem for the banks, address those potential issues and get the loan submitted to the banks we had selected as the best options. The loan application was completed and submitted to the banks at about midday on Tuesday along with all the information and explanations to ensure that it could be processed without delay.
Yesterday afternoon we received the loan approval and later had completed our negotiations with the bank so we could ensure that we could present Kevin with his loan approval and a very competitive package that included discounted interest rates and a cash contribution as well.
It was a pleasure in providing Kevin with a loan approval and he was so grateful for the help which made it even more special.
Finance For New Builds Is Different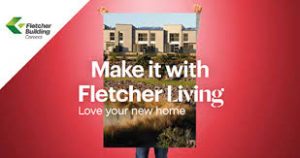 Kevin's new home is brand new.
It has been built by Fletcher Living and is completed but just waiting on the code of compliance to be issued before Kevin is able to take possession and move in early next month – November.
When someone goes to a bank to get finance for a new home the bank staff will try to fit the application into a "box" and it will not always fit.
Some new builds are turn key meaning that you pay a deposit with the balance due on completion.
Some new builds are structured so you purchase the land and then progressively pay for the build as it progresses – typically the finance for these is known as the progress payment option.
With Fletcher Living they will typically have the house built before they market it, so you are effectively buying a completed house; however the title and code of compliance may still not be issued. This causes problems for banks as they will look at a purchase agreement and the expectation is you are buying a new build off the plans. They often do not ask the right questions so they end up offering you finance that is not suitable.
As a mortgage broker that specialises in new build finance I know what questions to ask, and therefore get a full understanding of what is required before I prepare the application for finance.
That is why people contact me for finance when they want to buy a new home.