Is Residential Building Slowing?
We have seen recently reported that new building activity fell in both value and volume terms in the first quarter of this year compared to the fourth quarter of last year, but it's not a dramatic drop with the volume of residential building work put in place was down by just 0.8% compared to the fourth quarter of last year.
But as with so many statistics they can be used to support an argument, but they can also be used to prove what is really happening.
In a recent article I saw Westpac senior economist Satish Ranchhod saying that although the outlook for construction activity remained strong, capacity constraints had emerged and cost pressures were continuing to build in the sector.
Residential Building Numbers
In March 2017, building consents were issued for 2,779 new dwellings:
1,923 houses
407 townhouses, flats, and units
252 apartments
197 retirement village units.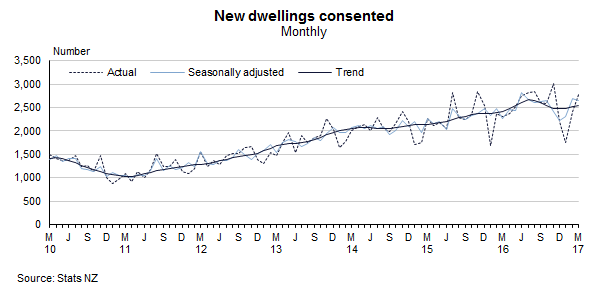 As you can see by the graph from Statistics NZ  here, the trend is still showing increased building activity.
In fact if we include alterations, the value of building work consented in the March 2017 month was a record $2.0 billion, comprising $1.2 billion of residential work and $837 million of non-residential work.
Auckland Building Consents Have Increased Again
When we look at the regions, consenting was up again in Auckland but as expected the Canterbury consents are slowing as the Christchurch rebuild works through.
Auckland had  942 consents issued which was up 20 percent from March 2016 due to an increase for apartments and Waikato was also up by 319 (up 16 percent)while Canterbury issued 491 consents which was down 5.6 percent.
So while we see some reports in the press saying that building has slowed, I would not be making decisions with that sentiment. The fact is that in Auckland the residential building activity and consenting is still very strong.