Smart Home Security | Introducing The August Smart Lock
Sometimes you come across something that make you think "how smart is that" and this product is one of those things.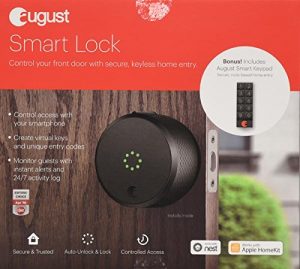 Have you ever wondered why a car can have central locking and yet you need a key for your home?
Have you ever left your home unlocked?
Would you like to be able to provide access to your home remotely?
I'm guessing that most of us would answer "YES" to these questions.
So when I saw the smart lock concept I thought WOW … this is what we need.
Introducing The August Smart Lock
Keys are so 20th century. A connected lock offers both security and flexibility, letting you control access to your home with your phone.
Convert your smart phone into a smart key.

Control who has access and when.

Easy do it yourself install.

Works with Apple, Android and IOS devices.
How To Buy The August Smart Lock
Well that is the catch.
I cannot find them available here in New Zealand and (as at today) they are not on Trade Me.
They are available on Amazon (see the buy now on the right of this page) and if you sign up for YouShop from NZ Post then it's easy to get delivered to your home in New Zealand.
Generally the prices at Amazon are good too.
This is a great option to add to your new build, but it can also be fitted easily to existing doors.
The August Smart Lock Reviewed
The HomeKit-enabled August Smart Lock keeps tabs on who is entering and leaving your home using your smartphone.
It's easy to install and offers all the latest technologies including voice activation, geofencing, and an IFTTT channel that allows it to trigger other devices.
Here is a video that goes through this in more detail;
It's great to have the ability to invite and issue (via text or email) virtual keys to anyone within seconds right from your phone.
This also allows you to control when said keys work and when to cancel them altogether. So, for instance, you'd probably issue your family members with a key that works all the time, but you might only grant your cleaning service access a few hours a week.
Smart Lock also keeps a log of every entry and exit for every issued digital key, which you can access anytime from either your phone or computer. It even sends a push notification in case you're wanting to take extra care about who is in your house and which Smart Locked door they entered through.